How to Play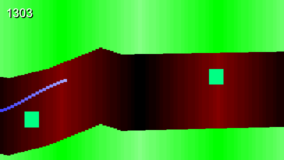 This is a simple but addictive action game. Control ribbon to avoid cave walls!
Click and hold anywhere to move up. Release to move down.
This game contains 12 LEVELS including 3D and Mouse modes! (higher levels are unlocked by scores)
You can also control by pressing a space key.
Download
Platform: Mac OS X 10.6 (Snow Leopard) or later
Price: Free
[ Download SFCave ]
Notes
Check the FAQ for more information.
Other Games

PapiJump
- simple but addictive jumping action game. Move Mr.Papi left and right so that he jumps well!

PapiWall
- Mr.Papi is rolling down a dangerous hill!