How to Play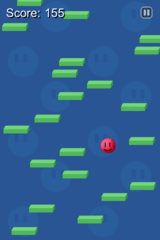 PapiJump is a simple but addictive jumping action game!
Mr.Papi (red ball guy) wants to go up higher, is jumping eternally.
Press LEFT or RIGHT keys to accelerate him left or right.
Note that the left side of the screen is connected with the right side (except for Level-Right).
This app contains the following 10 levels (locked at first):
NORMAL, FALL, ENEMY, RIGHT, TRAMPOLINE, DOWN, RIGHT+ENEMY, COLORS, ENEMY2, and FALL+ENEMY2.
In ENEMY levels, press D or F keys to shoot fire.
Download
Platform: Mac OS X 10.6 (Snow Leopard) or later
Price: Free
Notes
Check the FAQ for more information.
Other Games

PapiWall
- Mr.Papi is rolling down a dangerous hill!