How to Play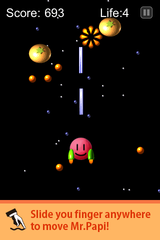 The Earth has been attacked by strange Orange creatures!
This is a classic 2D shooter. Move a mouse cursor on the window to move Mr.Papi so that he destroy all the Orange creatures.
Infos:
- If you destroy the enemies faster, you can get more scores.
- If he gets a heart item, his extra lives increase.
Download
Platform: Mac OS X 10.6 (Snow Leopard) or later
Price: Free
Notes
Check the FAQ for more information.
Other Games

PapiJump
- simple but addictive jumping action game. Move Mr.Papi left and right so that he jumps well!

PapiWall
- Mr.Papi is rolling down a dangerous hill!