How to Play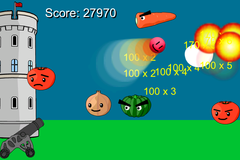 Many vegetable monsters are coming to our tower!
Drag a mouse cursor from a cannon to launch Mr.Papi (red ball guy) and blast the vegetable monsters.
- If you blast many monsters at once, you get chain bonuses.
- If a monster arrives at the left side, the game ends.
- The monsters are onions, pumpkins, carrots and tomatoes. You have to fire two times to defeat a tomato.
Download
Platform: Mac OS X 10.6 (Snow Leopard) or later
Price: Free
Notes
Check the FAQ for more information.
Other Games

PapiJump
- simple but addictive jumping action game. Move Mr.Papi left and right so that he jumps well!

PapiWall
- Mr.Papi is rolling down a dangerous hill!