How to Play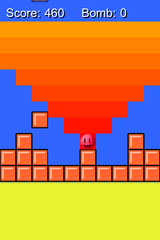 Many blocks fall from the sky.
Move Mr.Papi (red ball guy) and break the blocks to get scores.
- Press LEFT/RIGHT keys to move Mr.Papi. He can climb only one tier of blocks.
- Press DOWN key to break a block under him. You can get more scores if he breaks higher blocks.
- Press UP key to use a bomb and clear all the blocks above him. You get a new bomb every 500 points of scores.
- The game ends if he is crushed under a block.
Download
Platform: Mac OS X 10.6 (Snow Leopard) or later
Price: Free
Notes
Check the FAQ for more information.
Other Games

PapiJump
- simple but addictive jumping action game. Move Mr.Papi left and right so that he jumps well!

PapiWall
- Mr.Papi is rolling down a dangerous hill!