How to Play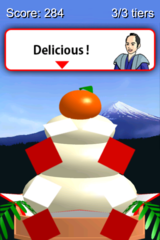 Traditionally at the beginning of new year, all of Japanese people pile up round rice cakes and put an orange on the top, which is called "kagami mochi".
Let's make a kagami mochi and enjoy Japanese culture by this game!
How to play:
- Click the screen anywhere to determine the size of a rice cake tier.
- Larger size give you more score.
- But a tier should be smaller than the previous (lower) tier. If not, the game is over.
Download
Platform: Mac OS X 10.6 (Snow Leopard) or later
Price: Free
Notes
Check the FAQ for more information.
Other Games

PapiJump
- simple but addictive jumping action game. Move Mr.Papi left and right so that he jumps well!

PapiWall
- Mr.Papi is rolling down a dangerous hill!