How to Play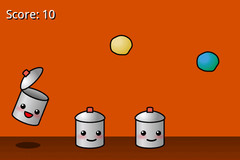 Catch fresh potatoes to make potato stew!
Press 1,2,3 keys (or click pots) to jump and catch potatoes thrown from the right side.
If they catch a rotten potato, you lose the pot. But if they catches a heart item, a pot comes back.
More right pot earns more score. If they get potatoes continuously without missing them, the 'combo' counter increases and you can get more score.
Download
Platform: Mac OS X 10.6 (Snow Leopard) or later
Price: Free
Notes
Check the FAQ for more information.
Other Games

PapiJump
- simple but addictive jumping action game. Move Mr.Papi left and right so that he jumps well!

PapiWall
- Mr.Papi is rolling down a dangerous hill!