How to Play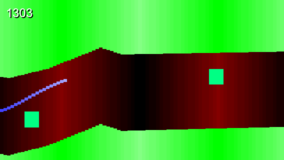 This is a simple but addictive action game. Control ribbon to avoid cave walls!
Touch the screen to move up. Release to move down.
This game contains 12 LEVELS including 3D and Tilt modes! (higher levels are unlocked by scores)
Download
Platform: Android devices
Price: Free
[ Launch SFCave ] if you've already downloaded.
Notes
This is the porting of our classic SFCave games, which are released on Windows 3.1 in 1995 and PalmOS in 1998.
SFCave is an abbreviation of Sun-Flat-CAVE!
Check the FAQ for more information.
Other Games for Android

PapiJump
- simple but addictive jumping action game. Tilt the device so that Mr.Papi jumps well!

PapiWall
- Mr.Papi is rolling down a dangerous hill!