How to Play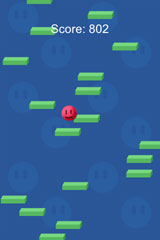 PapiJump is a simple but addictive jumping action game!
Mr.Papi (red ball guy) wants to go up higher, is jumping eternally.
Tilt the device to move Mr.Papi left and right.
Note that the left side of the screen is connected with the right side (except for Level-Right).
This app contains the following 10 levels (locked at first):
NORMAL, FALL, ENEMY, RIGHT, TRAMPOLINE, DOWN, RIGHT+ENEMY, COLORS, ENEMY2, and FALL+ENEMY2.
[ Demo Video ]
Download
Platform: Android devices
Price: Free
[ Launch PapiJump ] if you've already downloaded.
Notes
If tilt control isn't smooth, try: Title Menu > Tools > Advancd settings > Sleep time per frame > 20.
Check the FAQ for more information.
Other Games for Android

PapiWall
- Mr.Papi is rolling down a dangerous hill!