How to Play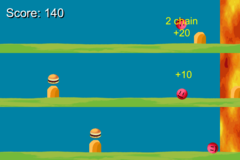 Papi Trio (three red ball guys) are rolling in each layer!
Tap the screen so that they jump and eat delicious hamburgers!
If they crash into walls they are pushed back. The game ends if one of them enter the fire on the right.
You get chain bonus if they continuously eat hamburgers, without crash or useless jump.
Download
Platform: Android 1.5 or later devices
Price: Free
[ Launch PapiTrio ] if you've already downloaded.
Notes
Check the FAQ for more information.
Other Games for Android

PapiJump
- simple but addictive jumping action game. Tilt the device so that Mr.Papi jumps well!

PapiWall
- Mr.Papi is rolling down a dangerous hill!