How to Play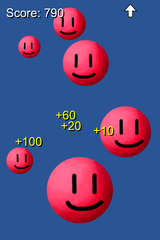 OMG! Too many Papis (red ball guys) drop down from the sky.
Tap Papis to keep them on the screen.
- Every time you tap Papi, he becomes smaller, and you get more scores.
- If all of Papis fall out of the screen, the game ends.
- This app doesn't support multi-touch so that you can play with only one finger.
Download
Platform: Android 1.5 or later devices
Price: Free
[ Launch PapiTap ] if you've already downloaded.
Notes
Check the FAQ for more information.
Other Games for Android

PapiJump
- simple but addictive jumping action game. Tilt the device so that Mr.Papi jumps well!

PapiWall
- Mr.Papi is rolling down a dangerous hill!