How to Play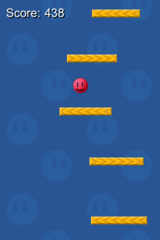 You control Mr.Papi (red ball guy) to go up higher.
All you have to do is tap anywhere to jump!
Platforms are moving left or right automatically, and you should jump timely to land on a next platform.
- The left side of the screen is connected with the right side.
- If he falls down, the game is over.
- You can also control by pressing the space key.
Download
Platform: Android devices
Price: Free
[ Launch PapiStep ] if you've already downloaded.
Notes
Check the FAQ for more information.
Other Games for Android

PapiJump
- simple but addictive jumping action game. Tilt the device so that Mr.Papi jumps well!

PapiWall
- Mr.Papi is rolling down a dangerous hill!