How to Play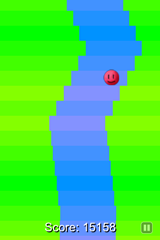 PapiRiver is a scroll action game.
Mr.Papi (red ball guy) is going down a river.
Tilt your device to left and right to lead him along the river!
If he hits the bank of the river, he is pushed back. The game ends if he goes out of the upper edge of the screen.
Note that you can get more score when he gets closer to the bottom edge of the screen.
This app contains 2 levels - Normal and Fast (locked at first).
[ Demo Video ]
Download
Platform: Android devices
Price: Free
[ Launch PapiRiver ] if you've already downloaded.
Notes
You can cange to the Full Screen mode at: Title Menu > Tools > Screen Zooming
Check the FAQ for more information.
Other Games for Android

PapiJump
- simple but addictive jumping action game. Tilt the device so that Mr.Papi jumps well!

PapiWall
- Mr.Papi is rolling down a dangerous hill!