How to Play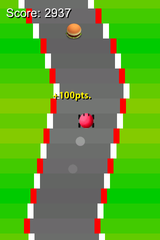 Mr.Papi drives his smiley car to get more hamburgers!
Move a mouse cursor left and right to lead the car.
When the car gets a hamburger, you get bonus 100 points.
If the car hits the side of the road, the car is pushed back. The game ends if the car goes out of the bottom.
Download
Platform: Windows 8 or later
Price: Free
[ Download PapiDrive ]
* Click 'View in Windows Store' button in the next page to open the app page in Windows Store.
Notes
Check the FAQ for more information.
Other Games

PapiJump
- simple but addictive jumping action game. Move Mr.Papi left and right so that he jumps well!

PapiWall
- Mr.Papi is rolling down a dangerous hill!