How to Play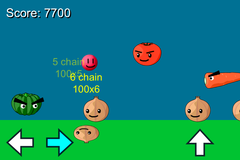 Many vegetable monsters are coming.
You are Mr.Papi (red ball guy).
Press LEFT, RIGHT and UP keys to move and jump from ground.
Jump on the monsters to defeat them.
- If you defeat many monsters without landing, you get more scores.
- If you crash into the monsters from side or bottom, the game is over.
- The monsters are onions, pumpkins, carrots and tomatoes.
Download
Platform: Windows 8 or later
Price: Free
[ Download PapiTrampoline ]
* Click 'View in Windows Store' button in the next page to open the app page in Windows Store.
Notes
Check the FAQ for more information.
Other Games

PapiJump
- simple but addictive jumping action game. Move Mr.Papi left and right so that he jumps well!

PapiWall
- Mr.Papi is rolling down a dangerous hill!

SFCave
- Control ribbon to avoid cave walls!