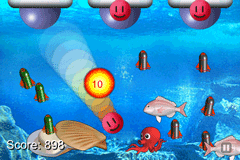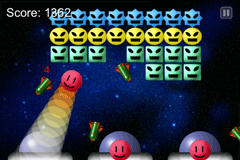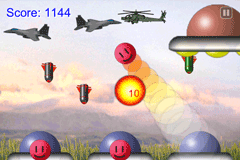 How to Play
This is a deluxe edition of PapiMissile, which is a shooting action game.
In addition to the free edition, PapiMissile Plus has the following MULTIPLE LEVELS and the LOCAL HIGH-SCORE RANKING feature.
Normal: Same as the free version of PapiMissile
Enemy: Many enemy planes come
Sea: Attacks from creatures in the sea
Space: Attacks from space aliens
Mix/Shuffle: Mix of the 4 levels above
Rolling: Another control method
In a game, slide your finger from a military base to launch Mr.Papi (red ball guy) and break missiles and enemies.
- If you break many missiles and enemies at a time, you get more score.
- If all the bases are destroyed by missiles, the game is over.
- Sometimes an extra base flies through the air. If he gets it, a destroyed base will be recovered.
Download
Platform: iPhone, iPod touch and iPad
Price: $0.99
************
We ended support of this app in April 2013.
We can't provide updates of this app, even if the free version of PapiMissile updates with more features, or even if this app does not works correctly.
************
[ Launch PapiMissile Plus ] if you've already downloaded.
This app isn't available at some countries, sorry.
Notes
Check the FAQ for more information.
Other Games

PapiJump
- simple but addictive jumping action game. Tilt the device so that Mr.Papi jumps well!

PapiWall
- Mr.Papi is rolling down a dangerous hill!