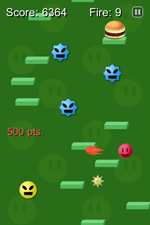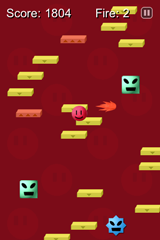 PapiJump Plus is a deluxe edition of PapiJump, which is an addictive jumping game.
You can play the following levels IMMEDIATELY without unlocking them.
NORMAL: The basic level
FALL: The platforms fall when Mr.Papi jumps on them
ENEMY: Mr.Papi is chased by enemies. Shoot them with a fireball
RIGHT: Mr.Papi is going towards the right
TRAMPOLINE: Mr.Papi jumps higher
DOWN: Mr.Papi is getting down platforms
RIGHT+ENEMY: combination of RIGHT and ENEMY
COLORS: Platforms have three colors
MOVE: Platforms are moving
HARD: Hard from the beginning
TOUCH: Touch the screen to control Mr.Papi
ENEMY2: Mr.Papi is attacked by three types of enemies.
FALL+ENEMY2: combination of FALL and ENEMY2
PapiJump Plus also has a variety of background colors, and the LOCAL HIGH-SCORE RANKING feature.
How to play
Select the level you want to play by pressing the button labeled "Level:", and you can see the instructions for each level.
e.g. In the Level-Normal, Mr.Papi (red ball guy) wants to go up higher, is jumping eternally. Tilt your iPhone to move Mr.Papi left and right.
Note that the left side of the screen is connected with the right side (except for Level-RIGHT).
Download
Platform: iPhone, iPod touch and iPad
Price: $0.99
************
We ended support of this app in November 2014.
We can't provide updates of this app, even if the free version of PapiJump updates with more features, or even if this app does not works correctly.
************
[ Launch PapiJump Plus ] if you've already downloaded.
This app isn't available at some countries, sorry.
Notes
Score rankings are separated with the old version app (v1.0.0). If you want to see the local scores of the old version app, turn on the "show old levels" at Title Menu > Tools > Settings, and select a old level at the Title Menu.
Check the FAQ for more information.
Other Games

PapiJump
- simple but addictive jumping action game. Tilt the device so that Mr.Papi jumps well!

PapiWall
- Mr.Papi is rolling down a dangerous hill!