How to Play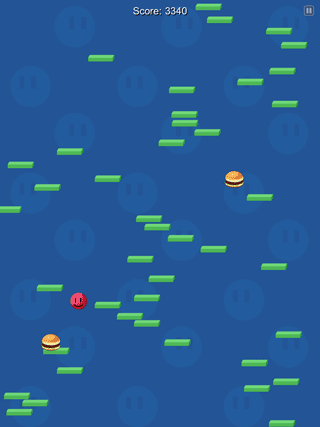 This is a simple but addictive jumping action game!
Mr.Papi (red ball guy) is jumping eternally. Move him left and right so that he go up higher.
You can select one of the following control methods in the title menu:
Tilt: Tilt the device left and right
Touch: Touch left or right buttons to accelerate him
Slide: Slide your finger left and right on the screen to accelerate him
You can also select Portrait or Landscape mode by rotating the device in the title menu.
Additional infos:
If he eat hamburgers you get bonus scores.
The left side of the screen is connected with the right side.
You can move faster by touching with two or more fingers in Touch and Slide levels
Download
Platform: iPad
Price: Free
************
We ended support of this app in June 2014.
We can't provide updates of this app, even if this app does not works correctly.
************
[ Launch PapiJump Large ] if you've already downloaded.
Notes
Check the FAQ for more information.
Other Games

PapiJump
- simple but addictive jumping action game. Tilt the device so that Mr.Papi jumps well!

PapiWall
- Mr.Papi is rolling down a dangerous hill!